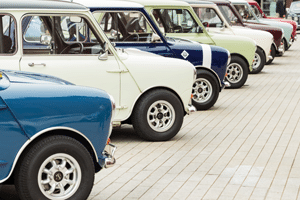 If you own a British vehicle, there are several issues you should keep an eye out for. British vehicles are prone to certain problems due to common production processes or material availability. Knowing the most common issues with British cars can help you keep yours running smoothly. 
Rust 
The quality of steel in the UK wasn't the best for many years, which means you may run into issues with rust and deterioration. Some British automobiles also have water traps in the design, which can cause serious problems. Keep an eye out for rust and other signs of corrosion on the body and frame. 
Poor Electrical Connections
Some of the soldering and electrical connections in British vehicles are of poor quality. You may notice that the electrical components in your car don't operate reliably. Taking it to a shop that specializes in these vehicles will help diagnose the issue. 
Unreliable Distributors 
One of the most common problems that British cars have has to do with the reliability of the distributors. You may notice things like misfires or problems with the cylinders in the engine. If your engine is running rough or isn't starting, take it to a shop that can replace the distributor with an aftermarket version of the part. 
Need an Expert for British Cars in Mukilteo?
Classic Motorsports is an independent shop providing all types of service and repair. You can trust us for simple software upgrades, transmission and differential upgrades and conversions, complete suspension and exhaust installations, and more. Trust Snohomish County's luxury European, Japanese and American auto repair and service experts and save. Contact us today to schedule an appointment with one of our technicians.
Experienced Technicians for British Cars in Mukilteo
German, British & European auto service & repair in Mukilteo, Edmonds, Everett, Lake Stevens, Lynnwood, Marysville, Mill Creek & Snohomish
---
Posted on March 24, 2023 | Published by Ignite Local | Related Local Business