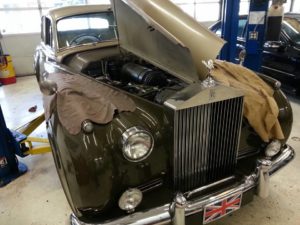 If you own a classic or vintage car, you know how important it is to find an experienced mechanic to take care of it. Finding a shop that specializes in cars like yours and has a reputation for great work will go a long way toward your vehicle's performance. Knowing how to choose a shop for classic car repair can help. 
Ask Other Classic Car Owners
One of the best ways to find a shop that can work on your vehicle is to ask other people who have cars like yours. They'll be more than happy to share experiences, both good and bad. They'll also be able to tell you which shops are best for particular jobs. 
Look for Certifications
Certifications are a great thing to look for when trying to choose a shop. They'll tell you that the shop cares about staying on top of their education and training. Certifications will also let you know if a shop is up-to-date on new technologies that can help your classic vehicle. 
Start Small
If you want to see if a shop will be right for you, try going there for something small first. Get an oil change or tire rotation and see how their customer service is and how they treat your vehicle. If you like how they operate, you can go there for more comprehensive classic car repair. 
Need Classic Car Repair Near Marysville?
Classic Motorsports is an independent shop providing all types of service and repair. You can trust us for simple software upgrades, transmission and differential upgrades and conversions, complete suspension and exhaust installations, and more. Trust Snohomish County's luxury European, Japanese and American auto repair and service experts and save. Contact us today to schedule an appointment with one of our technicians.
Expert Classic Car Repair Shop Serving Marysville
German, British & European auto service & repair in Mukilteo, Edmonds, Everett, Lake Stevens, Lynnwood, Marysville, Mill Creek & Snohomish
---
Posted on November 23, 2022 | Published by Ignite Local | Related Local Business