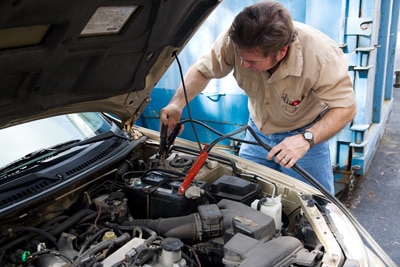 In general, car batteries are designed to last approximately four years, but there are several factors that will impact its lifespan. Frequent short trips and extreme temperatures can cause your battery to fail sooner, while proper car maintenance can help it last longer. There are also several warning signs that can indicate when your battery is on its last leg. Paying attention to these indicators ensures you have plenty to time for car battery replacement before you lose power completely. Here's what you should look for.
Engine is Slow to Start
Is your engine sluggish and slow to start? This is one of the first signs drivers notice before they need to replace a car battery. Take your vehicle to an auto shop to have your battery volt-tested as soon as possible.
Check Engine Light is On
In most vehicles, the check engine light can mean just about anything and it may come on when your battery is running out of juice. Check your manual and get your battery tested by a mechanic to see if it's working at full capacity. If not, you should get it replaced.
Corroded Connectors
Notice a white, ashy substance on the metal parts of your battery? You've got a corrosion issue. Corroded terminals — the positive and negative metal connections on the top of the battery — can lead to voltage issues and trouble starting your vehicle.
Need Assistance with Car Battery Replacement near Snohomish?
Are you having trouble with your car battery? Don't wait until your battery is completely dead. If you're noticing the signs now, bring your vehicle in to Classic Motorsports today. One of our highly-trained and experienced technicians can assess the condition of your battery and provide an honest recommendation as to how you should proceed. We offer a wide assortment of other services as well. We're expert auto technicians for German, British, and Italian vehicles. For more information about our auto shop, contact us today; we'll be happy to schedule an appointment for you!
Timely Car Battery Replacement for Snohomish Car Owners
German, British & European auto service & repair in Mukilteo, Edmonds, Everett, Lake Stevens, Lynnwood, Marysville, Mill Creek & Snohomish
---
Posted on March 25, 2022 | Published by Ignite Local | Related Local Business