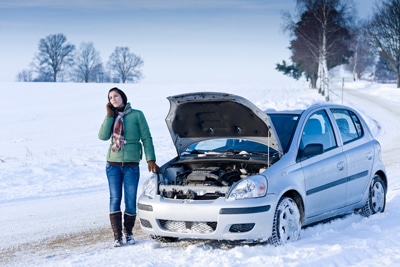 Proper car maintenance is always important, but ensuring your car is in tip-top shape throughout the winter is imperative. Why? There's nothing scarier than suddenly finding yourself stranded on the highway during a snowstorm! Cold weather conditions can do a number on your vehicle if you aren't careful; it's always better to be safe than sorry. Take steps now to ensure your car is running smoothly this winter. Following are three items to keep an eye on while you care for your car this winter.
Your Lights
The need to check your car lights may not seem related to winter, but it is. During the summer, days are longer and brighter. Winter means shorter days and, ultimately, darker commutes to and from work. You may not have noticed the effect before, but driving with a broken headlight  or lights that aren't properly aligned is more dangerous in dark, rainy and snowy conditions. Improper headlight alignment can blind other drivers and make it harder for you to see, too.
Your Battery
The cold can really impact your car battery. You might have been able to squeak by with a dying battery during the warmer summer months, but the winter will not be so kind. Have your auto technician check your battery's voltage and replace it if needed.
Your Cooling System
It may not seem like you need your cooling system when it's freezing outside, but having a fully functioning system is vital. In winter, the coolant/antifreeze lowers the freezing point and prevents freeze up. If your engine freezes the engine block could crack. 
Care for Your Car the Right Way This Winter is Vital
If you haven't taken your car in this winter, it's a good idea to do so now. Cold weather is here and Classic Motorsports can help keep your car running all winter long! Contact us to schedule an appointment today. We expertly service German, British & European vehicles.
Helping You Care for Your Car This Winter in Mill Creek
German, British & European auto service & repair in Mukilteo, Edmonds, Everett, Lake Stevens, Lynnwood, Marysville, Mill Creek & Snohomish
---
Posted on January 26, 2022 | Published by Ignite Local | Related Local Business