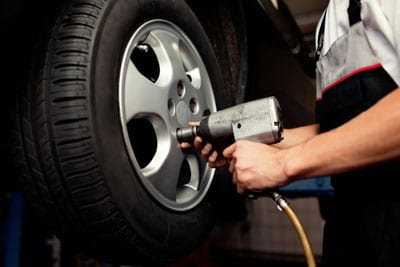 Have you got concerns about your tires in Lynnwood? Because damage to your tires isn't always apparent, tire inspections should be part of your regularly scheduled vehicle maintenance. The best way to avoid a dangerous blowout is to have your service center mechanic inspect your tires for the following common tire problems in Lynnwood.
Punctures and Slashes
The most common tire problem comes from road hazards and objects puncturing or slashing your tires. Nails, sharp rocks, metal debris, and a variety of other items on the road can pierce through your tire and cause air leaks. Your repair shop do a visual inspection of your tires as part of normal vehicle maintenance.   
Sidewall Damage
Your tires have significant air pressure inside, so it's important that they stay structurally sound. Potholes, curbs, and other damage to the sidewalls of your tires can cause dangerous weaknesses that may lead to a blowout. Have your auto technician inspect for any sidewall damage.
Uneven Wear Patterns
Most auto repair shops will recommend that you rotate your tires. This is because tires will wear more in certain areas over time. Rotating your tires will help them to wear more evenly. When you fail to rotate your tires as part of normal vehicle maintenance, they become uneven, which creates dangerous weak points in the tread.
Need Vehicle Maintenance near Lynnwood?
Are you concerned about the condition of your vehicle's tires in Lynnwood? Don't wait to have them examined. Contact the professionals at Classic Motorsports in Mukilteo today. Our highly trained staff is prepared to handle all standard vehicle maintenance, as well as luxury vehicles like BMW, Mercedes, and other German made cars. 
Vehicle Maintenance Professionals near Lynnwood
Serving auto repair & automotive maintenance needs for residents in Mukilteo, Edmonds, Everett, Lake Stevens, Lynnwood, Marysville, Mill Creek & Snohomish
---
Posted on September 27, 2021 | Published by Ignite Local | Related Local Business