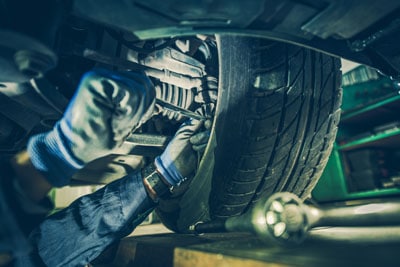 Here's something you may not be thinking about…those shocks or struts that give your vehicle such a smooth ride in Edmonds will eventually wear out.  It's inevitable of course; after holding up thousands of pounds of metal day after day, year after year, they can only last so long. So how can you tell when you need new shocks, and why is it important?
When your vehicle's suspension system wears out, your tires wear out faster, your car takes longer to stop, and you lose stability on tight turns. In short, you're not as safe. Here are some signs you need to replace your shocks.
Rough Ride
If you increasingly feel every bump in the road or notice a bouncing motion every time you hit a bump, these are signs the shocks or struts are wearing out. 
The "Nose Dive"
Do you notice the front end of the car dipping or lurching when you put on the brakes?  Take the car in to have the suspension checked.
Tires Wearing Unevenly
When you have your tires rotated, does the technician mention uneven tire wear?  With shocks or struts in good condition, the tread on your tires should wear down at about the same rate.  Uneven tire wear means the weight is not being distributed properly.  Several things can cause this, but bad suspension is a common culprit.
Time for New Shocks or Strucks in Edmonds?
If you're not sure whether your shocks are in need of replacement, contact us at Classic Motorsports in Mukilteo. Certified for excellent customer service, we specialize in servicing British and German vehicles as well as domestic models. For expert advice on shock or strut repair, call today—and be sure to look at our online specials for extra savings.
Expert Advice on New Shocks or Repair near Edmonds

Serving Auto repair & Automotive maintenance needs for residents in Mukilteo, Edmonds, Everett, Lake Stevens, Lynnwood, Marysville, Mill Creek, & Snohomish
---
Posted on May 28, 2021 | Published by Ignite Local | Related Local Business