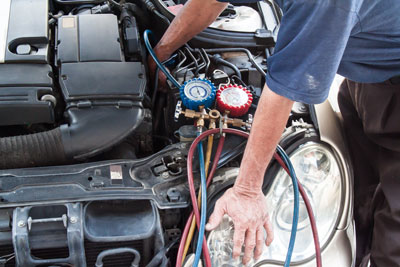 With warm summer months just around the corner, it's a great time to visit a trusted auto technician to have your Edmonds car or truck readied for whatever you have planned. Vehicles are designed to perform well in hot weather, but there are several components which require extra care.
Be Cool!
Have your vehicle's air conditioning system checked. Ask your local auto technician to ensure the refrigerant in your vehicle is properly charged. If it's not, your auto service shop can use fluorescent dye and black light technology to quickly find and repair leaks.
Beware of Overheating
A common summer ailment for vehicles is overheating. Have your radiator inspected for signs of leaks. We recommend the coolant be replaced every 24 months. It's also wise to keep extra coolant in the car just in case.
When the Rubber Meets the Road…
Rising summer temperatures heat the road's surface, which puts additional stress and pressure on your tires while you drive. Have an experienced auto technician check your tires and wheels for damage or excessive wear. If your tires have flaws, they're more likely to experience a dangerous blowout.
Looking for a Reliable Auto Technician near Edmonds?
Classic Motorsports of Mukilteo is the best place to find experienced, trustworthy auto technicians. Our shop specializes in expert luxury vehicle service for brands like BMW, Mercedes, and other European made vehicles. We've been awarded the rating of 'Very High Customer Satisfaction' by ValueStar, which uses multiple criteria to rate local auto service businesses, including professional accreditation and certification. Contact us to speak with one of our experienced auto technicians about your vehicle today.
Factory Trained Auto Technician near Edmonds
German, British & European auto service & repair in Mukilteo, Edmonds, Everett, Lake Stevens, Lynnwood, Marysville, Mill Creek & Snohomish
---
Posted on April 26, 2021 | Published by Ignite Local | Related Local Business