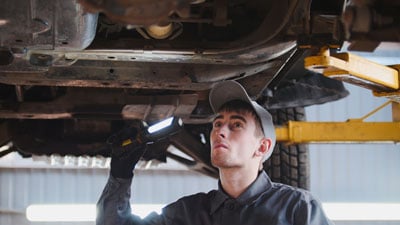 If you own an older vehicle with high mileage, experts recommend you take special precautions to ensure complications don't develop. If you want to keep your high-mileage vehicle running strong for many more years to come, schedule appointments with a local auto specialist for yearly maintenance. Request the following recommended yearly maintenance services during your next visit to an auto repair shop in Mukilteo.
1. Brake Inspection
High-mileage vehicles require a yearly brake inspection. Ask your auto technician to inspect your brakes, brake pads, and brake fluid during your next visit.
2. Regular Oil Changes
Regular oil changes are essential to avert engine breakdown. Switch to a high-mileage motor oil when your vehicle reaches 100,000 miles and continue using it for the life of the vehicle. A motor oil designed for high-mileage vehicles contains extra detergents to keep older engines clean and supplies extra protection to prevent future engine wear.
3. AC System Check
Older cars often develop malfunctioning AC systems. Make sure to have the coolant strength and air conditioner condenser checked during yearly maintenance.
Looking for Expert Maintenance Services for Your High-Mileage Vehicle?
Now that you're more familiar with the yearly maintenance your high-mileage vehicle requires, find a team of technicians you can trust. Bring your older car or truck to Classic Motorsports to receive the professional results and customer care you deserve. We offer a wide variety of auto maintenance and repair for all types of vehicles, including BMWs, Mercedes, and other British, German, and exotic makes. Whatever the issue, we'll get you and your vehicle back on the road in no time! Contact us to speak with one of our highly-trained and experienced technicians today.
Expert Maintenance for Your High-Mileage Vehicle in Mukilteo
German, British & European auto service & repair in Mukilteo, Edmonds, Everett, Lake Stevens, Lynnwood, Marysville, Mill Creek & Snohomish
---
Posted on November 25, 2020 | Published by Ignite Local | Related Local Business