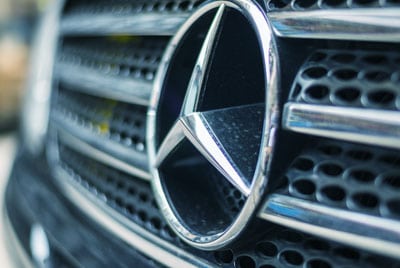 If you're having trouble with your Mercedes in Mukilteo, it may be time to schedule Mercedes repair. Start by trying to identify the problem. Consider some common Mercedes repair issues in Mukilteo.
Noisy Struts
If you hear a rattling or banging sound when you drive, you may have loose or leaking struts. All cars will eventually need strut and shock replacement. Over time, springs sag and shock absorbers start to leak. You may notice your vehicle starting to sag.  With worn shocks, your car tends to dive more during hard braking, which upsets the way it handles and increases stopping distances.
Rusting
Rust can do a lot of damage to your vehicle. Many classes of Mercedes develop rust behind the license place. Rust eats away at the metal in the engine. If you see rust anywhere on your vehicle, have it checked out at your local European auto shop.
Damaged Engine Harness Wire Insulation
If it get hot where you live, your Mercedes is at a greater risk of developing damage to the engine harness wire insulation, which can result in major problems with your engine. 
Need Mercedes Repair in Mukilteo?
Are you looking for Mercedes repair services in Mukilteo? If you've noticed any of the above-mentioned problems, take your vehicle to Classic Motorsports in Mukilteo today. Don't trust your car to just any mechanic. Our mechanics are certified to work on Mercedes, as well as German and British-made vehicles, BMWs, and other exotics. Remember, not every shop is equipped to perform the necessary repairs. Our highly-trained technicians can provide the same services a dealership does, but at an affordable price. Contact us today!
Mercedes Repair Experts in Mukilteo
Passionately serving auto repair & automotive maintenance needs for residents in Mukilteo, Edmonds, Everett, Lake Stevens, Lynnwood, Marysville, Mill Creek, & Snohomish
---
Posted on January 25, 2021 | Published by Ignite Local | Related Local Business